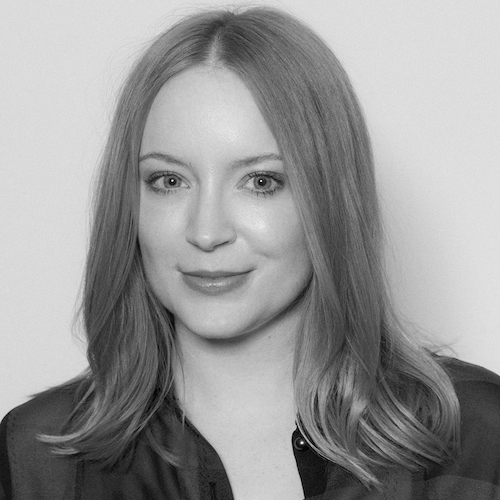 Sarah is Partner & Executive Producer at Hey Wonderful, an award-winning independent production company. She joined the company in 2016 as an executive producer and helped foster the thriving creative culture and convention defying work Hey Wonderful is known for. Highlights include Sam Spiegel's acclaimed branded entertainment series for Impossible Foods, "Wu-Tang in Space Eating Impossible Sliders," and his Webby Award-winning "The Instrument" for Nat Geo's "Genius" film series about Albert Einstein; Peking's Facebook "Hopeful For," a series of aspirational social films in a global campaign; and Sam Cadman's new campaign for Liquid Death which puts a hilarious new spin on the classic "taste test" originally made famous by Big Soda brands.
Sarah brings extensive experience as a line producer, working with a cross section of acclaimed directing talent. Among her most notable work, a series of award-winning commercials for Skype with Peking. She produced Pereira & O'Dell's Skype "Stay Together" and "Born Friends" in 2013, which won two Cannes Silver Lions, a One Show Gold Pencil and a multitude of other industry honors, and in 2015 the commercial films, Skype "Turning the Tide" and "Pet Detective," the latter honored with an AICP NEXT award for Product Integration. Sarah and Peking also collaborated on Doritos' Rock the Vote stunt via Goodby Silverstein + Partners which was shortlisted in Cannes.
Sarah got her start when she joined Food Chain Films as staff production manager after graduating from Reed College in Portland. She began line producing for director Vance Malone, and followed his lead moving to Los Angeles nearly a decade ago. She found her niche freelancing, working with companies such as Hungry Man, Station Film and Partizan, where she produced Sony Xperia "Frames," directed by Augustus Punch and winner of a 2013 AICP honor. She also produced commercials and content for Über Content and Brand New School, and continued to work with Malone—their collaborations included the Sundance short, The Poodle Trainer and the Cannes Cyber Lion-winning series of mini-docs for Coraline with Wieden+Kennedy Portland.