Meet the Speaker: Lauren Greenfield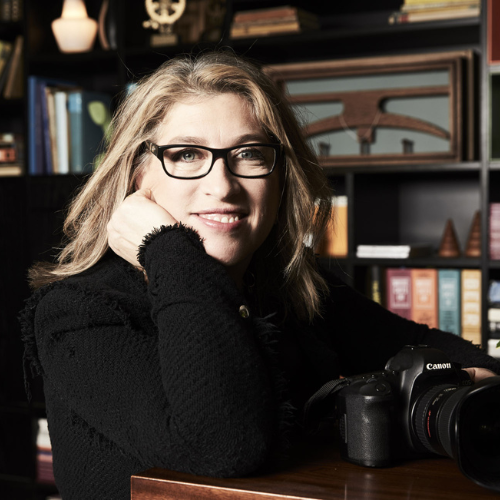 Documentarian Lauren Greenfield sat down with us to talk about the newly formed INSTITUTE, her upcoming projects and the works she's the proudest of. She will be talking more about her career at the festival on November 9th so be sure to join her!
You graduated from Harvard University with a Bachelor of Arts degree in visual and environmental studies. As you left college, where did you see your career path taking you? Or was documentary always making the goal? 
I loved making documentary films and social documentary photography at Harvard but I also studied social studies which had a big influence on my work. I spent my third year travelling around the world studying film and anthropology with several professors and 3o students, and on that trip, I realized that my calling in life was to document culture. After I graduated, I began a project about the French Aristocracy which eventually landed me an internship with National Geographic. There, I learned color and photojournalism and began my professional career. Documentary photography led me to make documentary films. My first documentary film got me signed to direct commercials. I've always been inspired by trying new media and making multi-platform work, so I continue to work in all three disciplines alongside each other (photography, filmmaking, commercial) and challenge boundaries. I recently tried comedy directing and hidden camera for the first time which I loved. Next up is a musical!
You have an extraordinary body of work, is there any one project you are most proud of?
I am always the most excited about whatever I'm currently working on. But that question is like asking which child am I most proud of? 
Generation Wealth
and 
The Kingmaker 
were the hardest mountains to climb and I think my most important works both in terms of their subject matter (the crisis of capitalism, and the crisis of democracy) and their forms. I'm still really proud of 
The Queen of Versailles. 
And #
LikeAGirl
is the work that touched the most people, made the most social impact and possibly even changed the language. But, as my friend and mentor Gerd Ludwig told me when I had my first son, my two children are the creative works of which I am the proudest.
Tell us more about Girl Culture Films and the work you do.
Following the huge impact of #LikeAGirl, I was fortunate to receive a lot of accolades from the advertising industry. It became clear that at every event where I was invited to speak, every project I was asked to bid on, every industry list I appeared on – I was often one of the only, if not THE only, woman. So in 2019 I started Girl Culture Films addressing the industry's systemic lack of gender diversity. Over the past few years as both our company and the industry have evolved, we made the change from Girl Culture Films to INSTITUTE to reflect both progress and new goals ahead. We want to broaden our roster and push the larger industry to be more inclusive of all underrepresented talent, not just limit the scope to gender. Beyond that, we want to establish new expectations for the industry and for brands in terms of whose stories are being told and how. Greater inclusivity should be ingrained from a project's inception, not just something that comes up in terms of checking a box or hitting a quota.
Separately, as INSTITUTE, we've changed our internal way of working to be more closely aligned and collaborative with our companies, photo agency INSTITUTE ARTIST, and our film and television production company, Girl Culture Studios. This will enable us to offer more avenues for storytelling under one roof, expanding our talent pipeline as we can tap promising photographers from around the world who have great potential on the motion side.
What are you currently working on?
I am directing and producing my first documentary series and developing a musical based on one of my documentary works. Additionally, I'm developing and executive producing a slate of non-fiction and fiction features and series through Girl Culture Studios with other directors which is really exciting. It has been so much fun to build Girl Culture Films (now INSTITUTE) and create an inviting place for other directors to make their work. It is gratifying and inspiring to help nurture and amplify other voices, especially young and underrepresented ones.
Is there a recent piece of work, outside your own work, which you liked / impressed you, and why?
Navalny
by the young Canadian filmmaker Daniel Roher, a compelling and beautifully crafted work about an important and astonishingly brave man.
All the Beauty and the Bloodshed, 
the new film by Laura Poitras about Nan Goldin's life, her photography, her opiate addiction, activism, and the ensuing downfall of the Sackler family. In the fiction film space, I LOVED
Women Talking
by Sarah Polley
.
In the commercial space, I was so moved by Henry Alex Rubin's work for Sandy Hook Promise. When short form can be that powerful, it elevates the medium. I loved Nisha Ganatra's clever
Womb Stories
for Bodyform, and the beautiful 
You Love Me
for Beats by Melina Matsoukas. Both documentary and commercials are getting better and better as rules are broken and barriers are broken down between genres and formats.
When did you first hear about CICLOPE and what does it mean to you / the industry we work in?
I have been hearing that CICLOPE is the hot, young, trendy conference of advertising so I am really excited to go for the first time. I love that it focuses on the craft which is what we as directors care about the most, but which sadly has so many opportunities to be subjugated to other interests in the commercial world. After Covid, we value community more than ever and it is exciting to be part of this community that celebrates craft and wants to come together to push the medium and our industry forward.
Any advice to anyone thinking of coming into the industry? What would you have told your 16-year-old self?
My photography teacher at Harvard said to "follow your heart". Passion and love for the process is what sustains us through hard work and setbacks and allows us to break through the challenges that come with every project. Finding your voice is the hardest and most important goal for a young filmmaker, director, photographer, artist, or maker. Once you have a singular voice, the world will come to you with opportunities to use it, if you are willing to work your butt off 24/7. Intrinsic motivation is much more powerful than extrinsic. Awards, money, fame, may or may not ever come and when they do, they are fleeting and not for what you expect. You must love the process and the work full stop and throw yourself into it with everything you have.