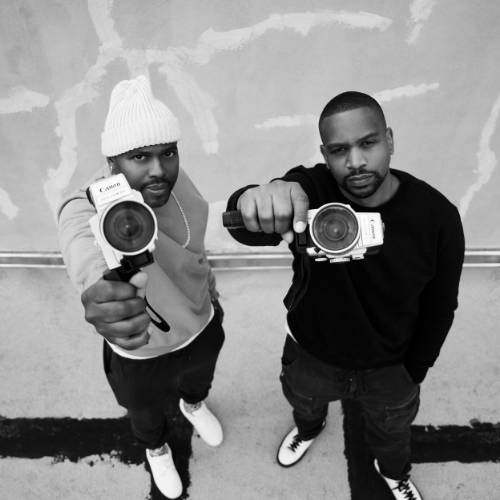 With one half hailing from Chicago and the other New Orleans, the award winning duo Coodie & Chike crossed paths in New York in 2002. In 2004, their first collaboration, Through the Wire, resulted in a chart topping video that instantly catapulted the career of one of the world's largest entertainers, Kanye West. The video's success would be attributed to its unique style that displayed soulful documented footage combined with mixed media elements. This unique approach that separated and continues to distinguish the directing team from other elite directors can be accredited to their individual backgrounds ranging from television and comedy to motion graphics and network packaging. The duo solidified their working relationship from this point on and continue to collaborate with high profile artist such as Pitbull, Mos Def, The Black Keys, Christina Aguilera, Erykah Badu, Ed Sheeran, Gil Scott-Heron, Wale and Joey Badass just to name a few.
They set their sights on transitioning their talents beyond music videos and on their abilities to tell stories across multiple verticals, which led Coodie & Chike to form their own production company "Creative Control". In 2009 they launched the digital network "CreativeControl.TV", showcasing the versatility of their storytelling.
Recently their production company has several projects in development ranging in television, film, digital and tech, including the highly anticipated three-part Netflix docu-series, "jeen-yuhs", which chronicles a 20 year span of the life of Kanye West. It debuted at the 2022 Sundance Film Festival to critical acclaim. It continues to stream as one of Netflix's premiere releases of 2022.
Creative Control' success is a reflection of the directing duo's cutting edge storytelling talents which manifest itself through their passion driven award-winning documentaries and narrative films also. These projects include a highly acclaimed ESPN 30 for 30 documentary entitled "Benji", which premiered in 2012 as the Gala film at the Tribeca Film Festival. The duo also produced a pair of BET Network documentaries titled "Muhammad Ali: The Peoples Champ" which won a 2016 NAACP Image Award for Best Television Documentary and "Martin: The Legacy of a King". "A Kid from Coney Island" had its world premiere at the Tribeca Film Festival in 2019 to astounding reviews and is now available on Netflix. Coodie & Chike also created and directed "Soul City", a short form series with Topics Studios. Heart and genre shifting narratives continue to chart the path of these creative visionary directors.